Requesting Media from your talent for Voice-Over Role Submissions
To see the workflow in action, watch this tutorial video:
When reviewing your talent selections for a voice-over roles, you are now able to request audio files from your talent prior to submitting their profile to the project!
After making your selections, navigate to the "Selected" tab.

Select the box to the left of the talent's photo, then click "Request media".





The media instructions from the Casting Director will automatically populate in the message to talent when requesting media, then select "Send To Talent".

Once the request is sent, orange text stating "Media Request Pending" will be displayed.




Talent will receive the request the same as they do other media requests via their alerts inbox.

Once the talent completes the audio request, you can go back into the project, view the selected talent, and review the talents audio submission. The talent line will now read "Media received" you can click on the "view media" to listen to audio file.

Other statuses you may see are "Media Request Confirmed" or "Media Request Declined". These talent can still be submitted without audio if you wish.

You can then further customize the submission if you wish or proceed with submitting the talent.

Once you select the talent you wish to submit, select "Submit selections". You will then have the option to submit the talent who added media, confirmed the request, the request is still pending, Declined media request, or media request not yet sent.



Two important notes about this workflow:
If you submit a declined or confirmed media request to the Casting Director, they will not see the status. They will receive the talent submission with no media attached. If you submit a talent with a status of "confirmed" and the talent uploads the audio after, this will not be sent to Casting.

IF you are uploading media FOR your talent, note that t

he status notices are based on the Talent taking action. If you add media for the talent, the media uploaded status will not update, since the talent didn't upload it.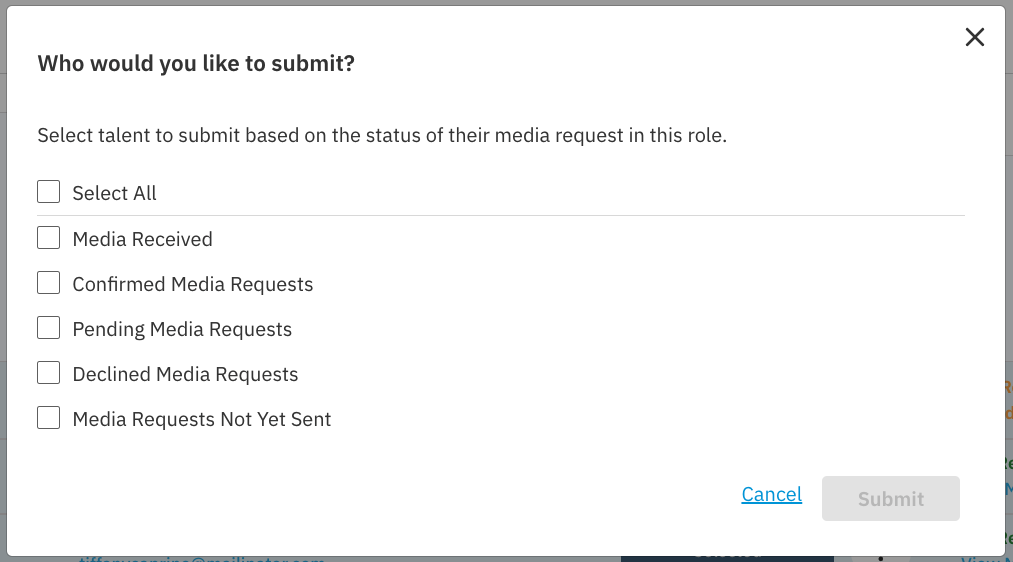 The maximum audio file size is 50 MB. Accepted file types are: AAC, MP3 or OGG