Why am I not receiving email notifications?
If you are not receiving email notifications from us please follow the steps below!
First, confirm that your notification settings are on!
1. Select your name in the top right corner of the screen
2. Hover over Account Settings and choose Notification Settings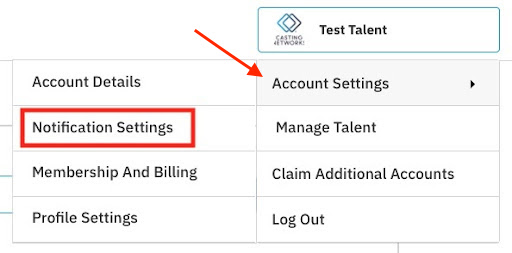 3. Confirm your notifications are set up to your preferred settings
IF you are a talent in the United States you can also opt into Text Notifications!
See how to here: How do I enable or disable text message notifications?
Second, after confirming your email notification settings are correct please add the email address notifications@castingnetworks.com as a new contact in your email address book.
This will prevent your email domain from sending any of our notifications to your spam/junk.
If the issue persists and you are still not receiving email notifications, please contact our support team.