Rotating Photos
To rotate photos:
1. Go to your Media Bank
2. Click on the three horizontal dots to the right of a photo
3. Select Edit Photo/Thumbnail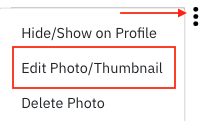 4. Use the arrow buttons to rotate your photo

5. Click on the thumbnail tab to rotate your thumbnail (using the arrow buttons)
6. Click Save when ready!
Related articles: