Presentation Link for Clients
A presentation link is the vehicle used to share or showcase video, photo, and audio auditions. Once you receive a link from casting, select it and it will open to your homepage and display the sessions or folders containing the audition media.
Click to jump to section:
Dark Mode and Light Mode
By default, all presentations are in "dark mode" You're able to activate "light mode" for a presentation. To activate light mode, click the half white / half black circle on the right hand side of the presentation


Viewing Talent in a Presentation
Click on any folder to view the contents

You are able to filter by:
Folders
Roles
Comments
Picks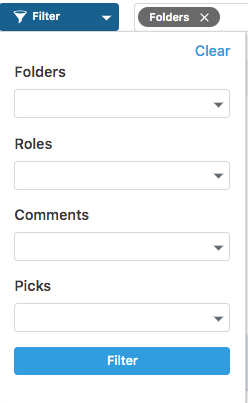 Click on any thumbnail to view video
*Note you can select the Auto Play here to automatically play the next video in order
To make a pick or leave feedback, simply select the Thumbs-Up or type feedback into the Leave Feedback bubble and press Post.

Just once, the system will ask you to enter your name. Then, subsequent feedback will be labeled with your name!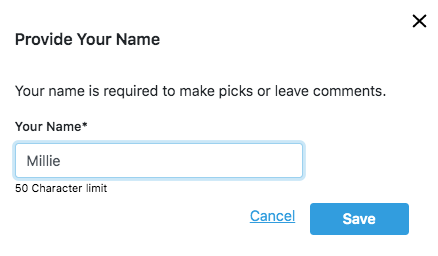 Proceed to view media and leave feedback for Casting!
Generate Reports via a Presentation
You're also able to generate presentation log and presentation size sheets reports while viewing a presentation.
1. Click on the Report dropdown

2. Choose which report you'd like to generate
Presentation Log
Presentation Size Sheet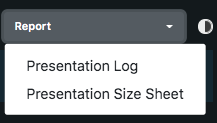 3. Choose which group or groups you'd like to generate the report for

4. Click View Report to generate the report in a new tab

For steps on how to download a report, click here.