Roster Lists
You're able to create custom lists of talent within your talent representative account.
Click to jump:
Create a New List and Add Talent
To create a roster list, follow the steps below:
1. Go the Talent tab and select Roster Lists

2. Select + Create a New List

3. Name your list, the select Create

4. Click in to the list you've created, and select + Add to list to start adding talent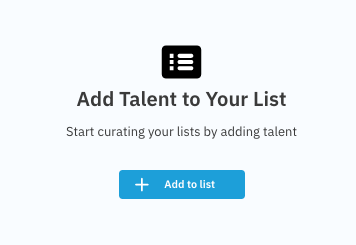 5. Under the talent's photo, select Add to List

Add/Remove talent from existing list
To add or remove talent from an existing list, follow the steps below:
Go to your Roster List and select the name of the list you want to edit
To add more talent, click on the Add Talent to List button on the top right corner

To remove talent, click on the Remove from List button below a talent's photo

Filtering by a list for a submission
Use the Filter button to filter your roster for a submission. You are able to filter by a list or multiple lists by using the "Roster List" dropdown.

Once you've chosen the list(s) you wish to filter by, select Filter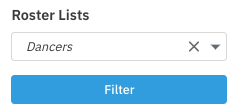 Filtering by a list to contact talent
To contact talent in a list, follow the steps below:
1. Go to your Talent Roster

2. Select the Filter button and go to Roster Lists. Using the dropdown choose which list(s) you want to filter by and select Filter.

3. once your roster is filtered, check off the Select All button or select talent individually. Once selected, press the Contact Selected Talent button on the bottom right corner.

4. Type in your message and press Send when ready!