On our new Casting Networks platform, we no longer switch profiles to different talent representative companies. Additionally, you no longer need an agency code to add a new representative to your account.
To add a new agent or manager to your account, contact your new representative and have them send you an invitation to join their roster. You are able to disable profiles with representation you no longer work with.
If you need to create an account (you do not have an existing Casting Networks account), select the I need to create an account button in your email invite. Click Register to create your free Casting Networks account.

If you already have a Casting Networks account, you can select the I have an existing account button in your email invite. Then, log into your account with your email address and password. You are able to copy your profile information to your new profile. Any media you have in your Media Bank can be shared across your profiles.

If you are a parent manager, or manage multiple talent within the same account, you'll be asked to associate this new profile with an existing talent or create a new talent within the account.
Disable Old Profiles
You are able to remove/disable a profile with past representation via your account. To remove a profile on your account, click on your name in the top right corner, hover over Account Settings then select Profile Settings.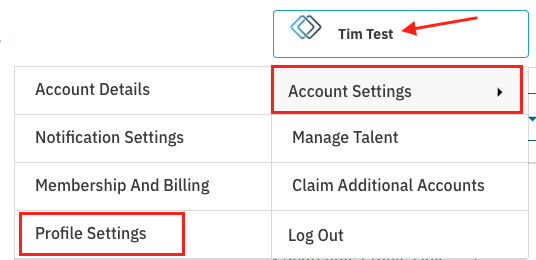 Once on the Profile Settings page, you're able to remove a profile by selecting the menu icon (three vertical dots) to the right of the profile and select Deactivate this Profile.
Please note: If the profile is on a talent representatives roster, the option will read Drop this Profile.

Helpful Articles: