You may want to widen your publication settings, or ask additional talent representative companies or talent in different areas to submit to your roles. You may also wish to request additional submissions from talent, or from the talent representatives from whom you initially requested submissions.
To widen the publication settings for any roles which have previously been published:
1. Click on the project title
2. Click Publish
3. Select Widen Publication Settings

4. Choose the role(s) for which you would like to widen the publication settings
5. Choose Talent on the Casting Billboard and/or Representatives
Note: You can search for additional talent representatives, choose an existing Reps List, or include additional locations.
6. Click Send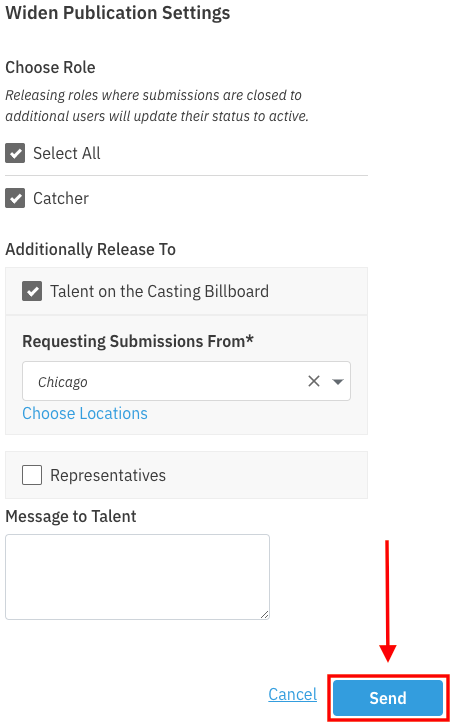 The publication settings of your role(s) will be modified to include new locations and / or new representatives that match the criteria. You are not able to remove any locations and / or representatives from the publication settings for a role at this time, but we hope to add that functionality in the future.
To request additional submissions:
1. Click on the project title
2. Click Publish
3. Select Request Additional Submissions

4. Select specific, or all, roles for which you'd like to receive submissions and add a message (optional)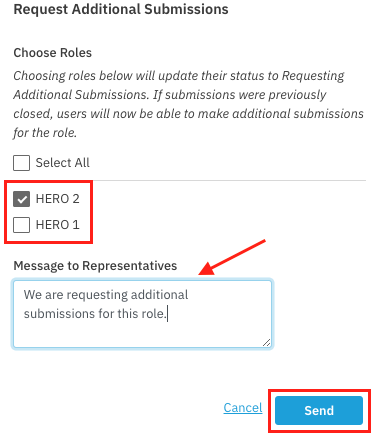 5. Click Send