Once talent have submitted to your role(s), you can view submissions by role.

Click the name of the project, and the number of submissions in the To Review column to see talent who have submitted to your role.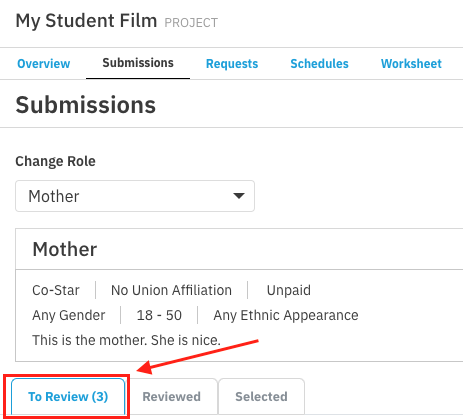 You'll be brought to the To Review tab which displays new submissions. To see more details about any talent, click on their photo to see more. To see their full profile, you can click to View Talent Profile in the bottom right corner.

If you're interested in contacting talent for more information or scheduling an audition, you can mark any number 1-6 below their photo to mark the talent as Selected. We provide you with several options allowing you to sort your talent in whatever way works best for you - some might choose their top choices as number "1", backups as "2", and so on. This is your project, so we made it flexible to operate whichever way you prefer. By selecting CB, you are indicating that you may want to bring this talent in for a callback.

If you choose not to move forward with a talent, you can select Mark as Reviewed when viewing their details. You're always able to return to your reviewed talent if you find you need to review talent you may not have initially chosen to contact.

Best of luck with your project! We hope the casting process truly brings it to life.