Booked Out Talent on the New Casting Networks
Make sure your roster is up to date!
In the new experience, booked out talent will

appear in your roster and no longer be hidden

. If you need steps to remove talent from your roster on the legacy platform (old Casting Networks), click here.
On the New Casting Networks
To indicate a client is booked out:
1. Click Talent in the top navigation bar
2. Click Filter
3. Enter in the talent's stage name and click Search
4. Click the booked out icon (calendar icon) below the talent's main photo

5. Choose a date range or individual date to book out talent - Multiple date/date ranges can be added to a talent's profile.
6. Select + Add Date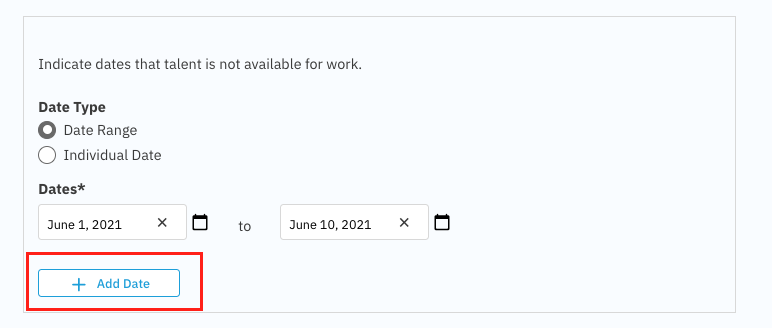 7. When you've added all dates, select Done

To see a talent's book out dates, hover over the calendar icon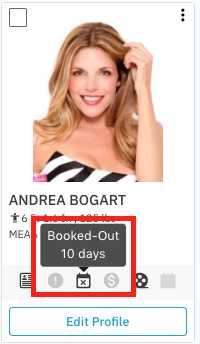 Please Note: Book-out dates on a profile are only for your reference. Casting will not see these book-out dates and you will still be able to submit talent to projects and their profiles will still appear in searches.
Removing Booked out Talent on the Legacy Platform
Follow the steps below to remove booked out talent on the Legacy Platform:
1. Once logged in, go to the Search tab and select Talent Search
2. Uncheck "available" (this is checked off by default) and check off "booked-out"
Add any other information you'd like to search by
3. Select Search
4. Click the "Agent Edit" button (pencil icon with "A")
5. Select the red Remove Talent from This Agency button
Please note: an age range must be entered in order to remove talent from your roster
Related articles: