Congratulations! A casting director saw your submission and wants to see more from you. All media requests will be available in Your Alerts page.

While viewing the request, you can attach any media the casting director has requested either from your media bank or uploaded from your device. You have an option to include a note before sending your response. Break a leg!

Does the media have to be in my media bank for me to use it to reply to a Media Request?
Not necessarily - when replying to a media request, you will be given the option to attach your media from your media bank or from the device you are currently using when you click Attach. This is especially helpful if a casting director might be requesting specific media that you won't need to attach to your profile.
Can I rename my audio clip or video reel I just uploaded to a media request?
Yes! To rename your audio or video attachment:

Click the overflow menu (⋮) to the right of the clip you would like to rename
Select Rename
Rename or edit the title
Click Save

Renaming a video or audio clip in a request will only rename the video or audio clip in a specific request and will not affect the name of the clip in your media bank.
How many photos/videos/audio clips can I upload to a Media Request?
You can attach a maximum number of

5 media clips or photos

to any request. There may be instructions from a casting director asking for a specific number of clips or photos, so make sure to look at the notes on any request.
If you need to, you are able to decline a media request. On the request, select the Decline button and include a note. When you're ready, click "Send Response". Responses cannot be edited after being sent.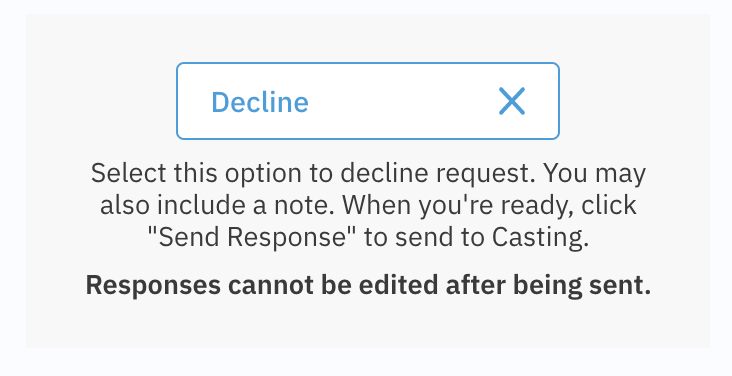 For information on uploading media to your media bank, see the following articles: