Congratulations! A casting director reviewed your submission and wants to see more from you.
Click to jump to section:
How to Reply to a Media Request
To reply to a Media Request (ie. upload your self-tapes), follow the steps below:
1. Log in to your Casting Networks Account
2. Go to Your Alerts and select the Media Request you'd like to view. All Media Requests will be available in Your Alerts page.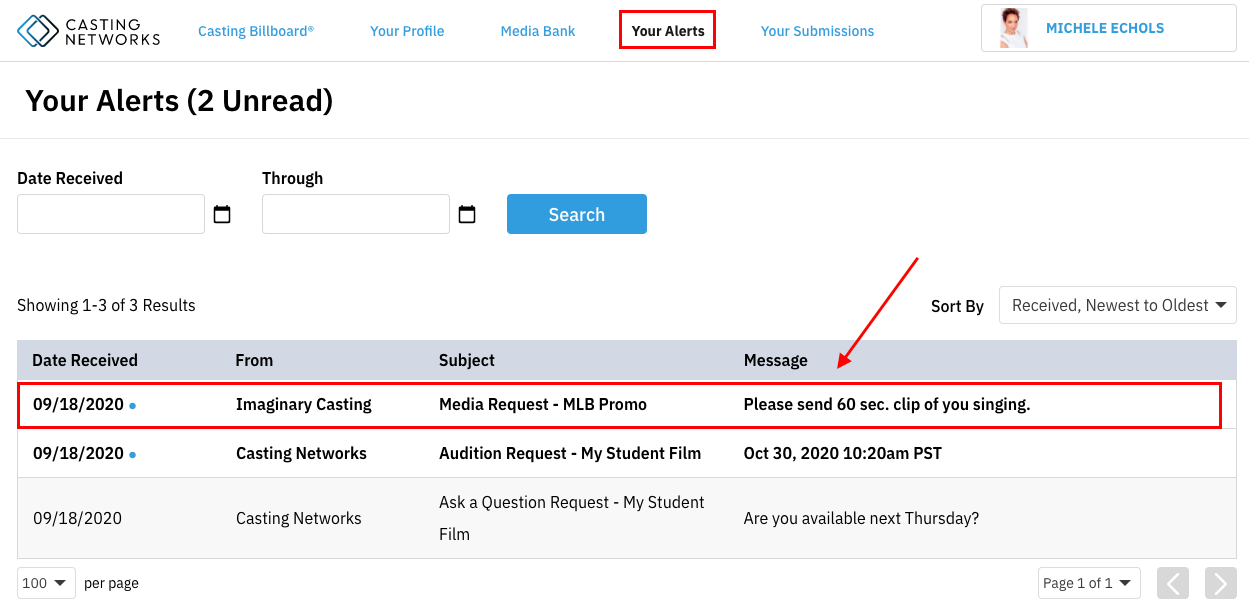 3. Before you upload your media, you must first select Confirm or Decline. You will then have the ability to include a note. This is optional.
When you're ready, click Send.* This will alert the Casting Director of your intent to respond to the Media Request by the due date. Once you click Send, the box to attach your media will appear.
* Responses can be edited after being sent.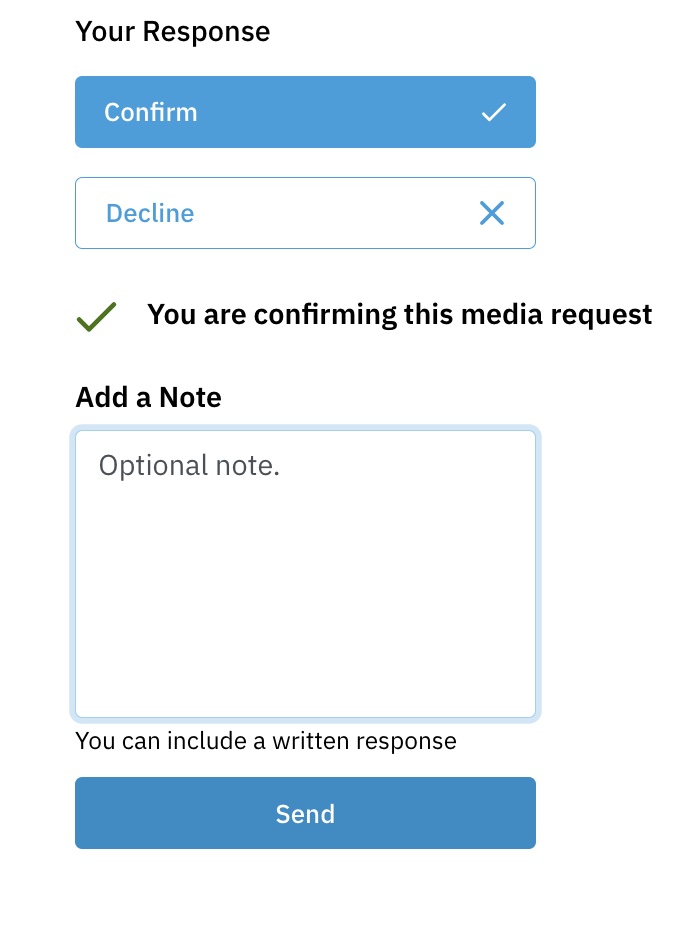 4a. Review the instructions from casting and prepare your media. Casting will provide sides under the Sides or Role Name fields.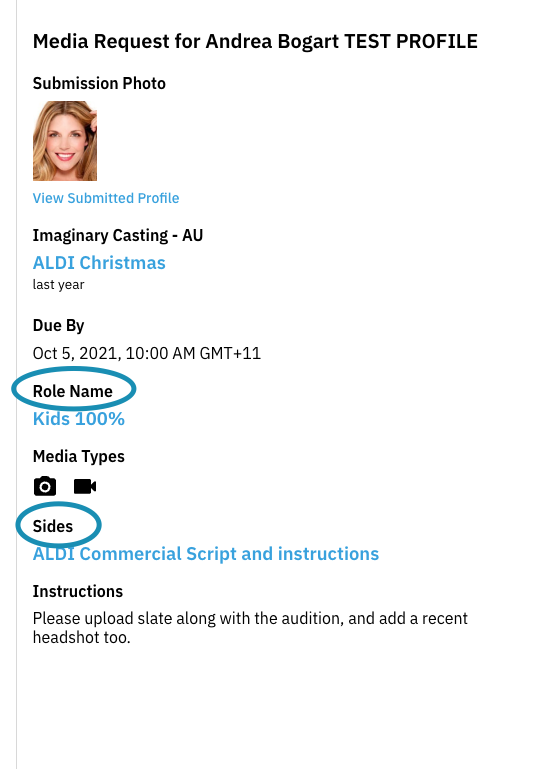 It is also common for sides not to be provided on an audition that requires mimed action. Please read the Instructions section carefully in order to know what casting is looking for.
Once you are ready, you can upload the requested media by selecting the Attach Videos button to either upload from your Media Bank or upload from your device/computer.
4b. Once you've uploaded your file, you will have the ability to rename it.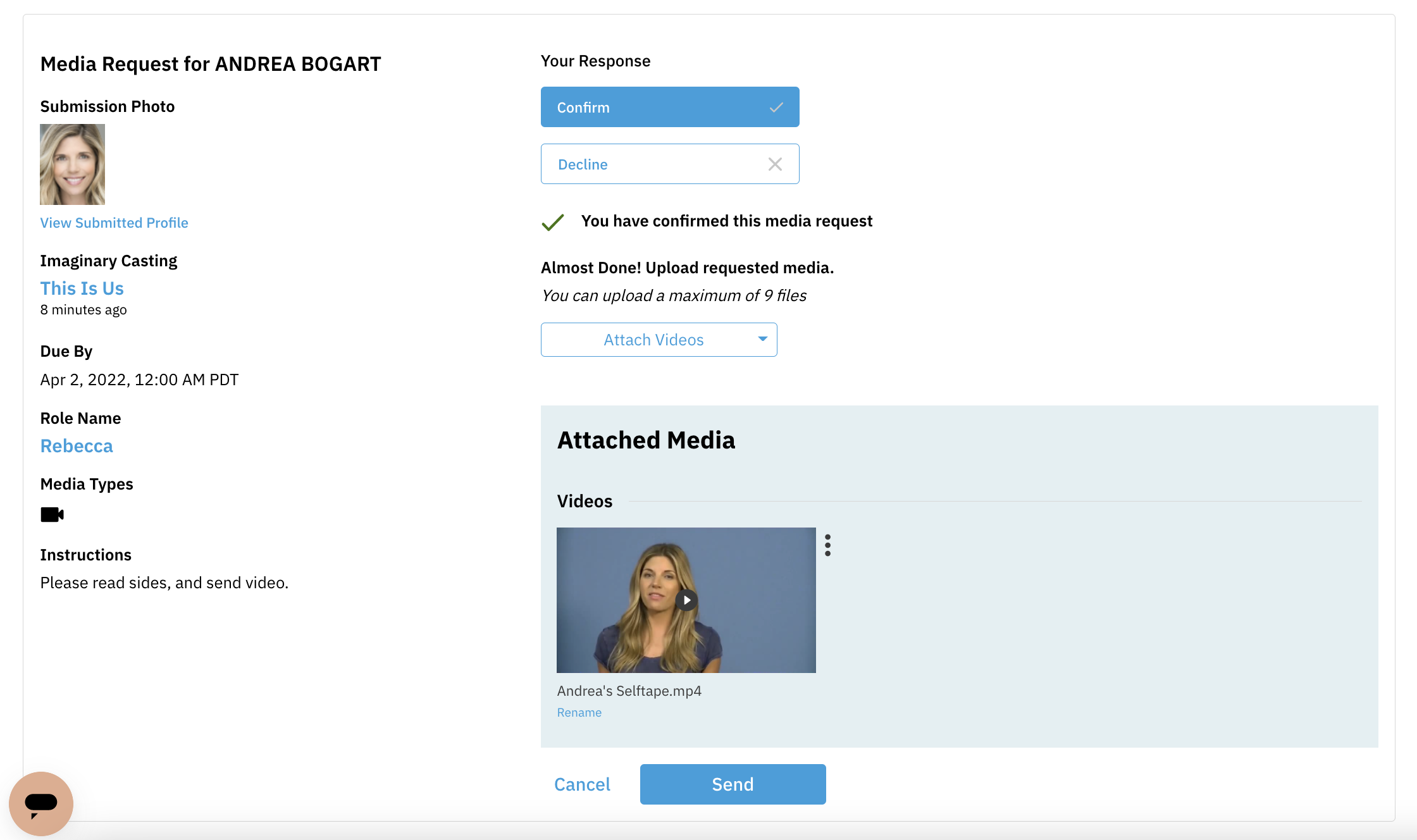 5. Click Send to send your media to casting. Once your media has been sent, you will see a green banner confirming your submission.
6. After you send your media, you will no longer be able to edit your submission.
Does the media have to be in my Media Bank for me to submit it to a Media Request?
Not necessarily - when replying to a Media Request, you will be given the option to attach your media from your Media Bank or from the device you are currently using when you click Attach Video. This is especially helpful if a casting director requests specific media that you don't want to upload to your profile.
Can I rename the audio clip or video reel I just uploaded to a Media Request?
Yes! To rename your audio or video attachment:

Click Rename beneath the media thumbnail
Rename or edit the title
Click Save

Renaming the video or audio clip will only rename the file in a specific request and will not affect the name of the clip in your media bank.
How can I change my response to a Media Request?
If you've accidentally declined your request and wish to Confirm it and upload your media, you would click the Confirm button, enter your optional note, and hit Send. You will then have an option to attach your media.
You can follow the same process if you wish to Decline the request after you have confirmed it. Click Decline, send your optional note, and hit Send.
How many photos/videos/audio clips can I upload to a Media Request?
You can attach a maximum number of

10 media clips or photos

to any request. There may be instructions from a casting director asking for a specific number of clips or photos, so make sure to look at the notes on any request.
Uploading Media To your Media Bank
For information on uploading media to your media bank, see the following article: