Project Wizard
Creating a new project just got a lot quicker!
At the top of your screen on the Projects List page where it says "New Project", you will now see a new option called "Project Wizard" in the dropdown menu.

Project Wizard allows the user to see a progress bar at the top of the screen with only three steps:




STEP 1 - CREATE PROJECT
In the first step you will fill out the basic information about the project (Name, Type, Union and Rate). Please note that you can always go back and edit/ add more project details later.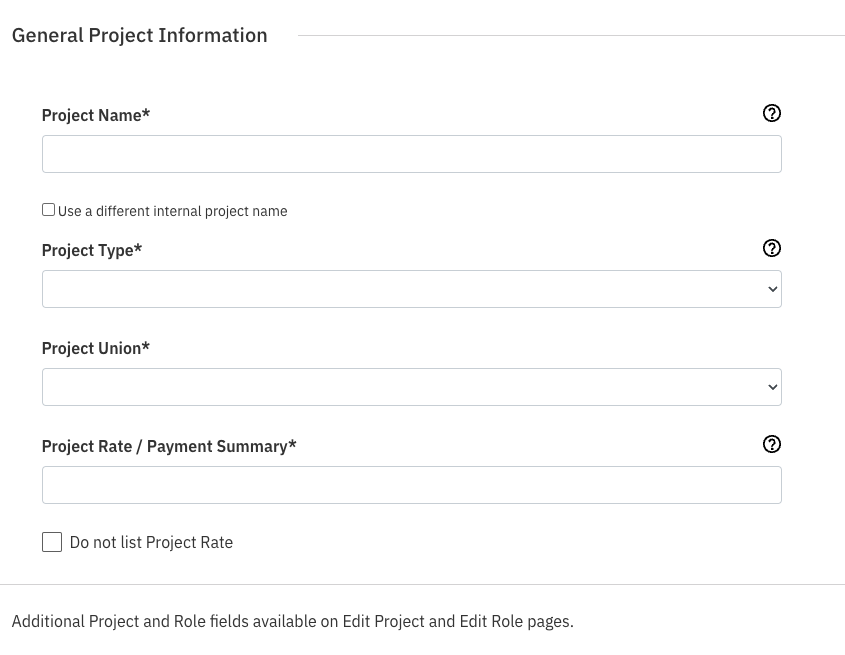 STEP 2 - PUBLICATION SETTINGS
In the second step, you jump right to the publication settings. This is where you can choose who and where the project is released to.

STEP 3 - CREATE ROLE(S)
The third and final step is where you will fill out the role information. This includes all of the required fileds on the role form (Role Name, Role type, Role Rate, Demographic Features, Role Description, and Submission Requirements).

Once you have filled out all necessary information (Any field with "*" next to it) you then have three options at the bottom of the screen, "Back", "Save and Go to Project Overview" and "Save and Add Another Role".






Please Note: If you are on step 3 and have filled out role information, if you navigate back to step 2, the role information will be cleared.